AJAX – MotionProtect Outdoor, Wireless Outdoor Motion Detector w/ anti-masking
MotionProtect Outdoor
Two-step algorithm for false alarm prevention
Correlation analysis: Whenever MotionProtect Outdoor detects motion, LISA analyses and compares signal forms from two sensors in real-time. If forms are similar, the alarm is raised.
Intelligent anti-masking system
Equipped with a tamper button and an advanced anti-masking system that can remain active 24/7.
The anti-masking system in MotionProtect Outdoor calibrates automatically by analyzing the surrounding area.
Dispels any suspicions (Pet Immune)
Ready for heat and cold
Guaranteed alarm delivery (Jeweller)
Intuitive to pair and install
Product Description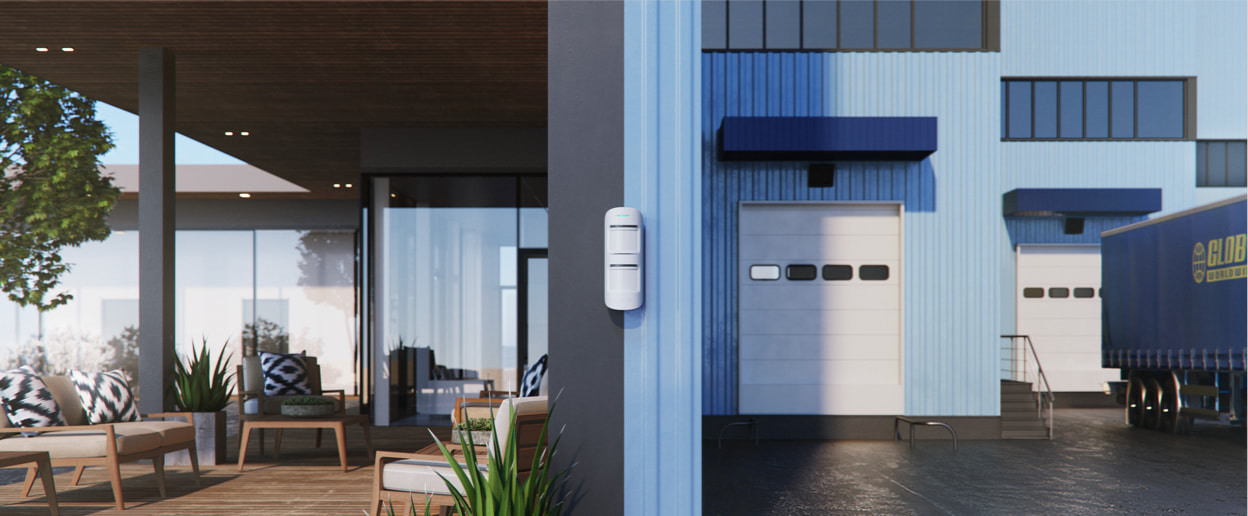 Sensing element
PIR sensor, 2 pcs
Detection angle, horizontal
90°
Time for motion detection
From 0.3 to 2 m/s
Motion detection distance
Adjustable, 3–15 m when the detector is
installed at 1 m height
Protection against masking
Yes
Pet ignoring function
Yes, height up to 80 cm when the detector is installed at 1 m height
Protection against false triggering
Yes, algorithmic analysis
Frequency band
868.0 – 868.6 MHz or 868.7 – 869.2 MHz,
depending on the sales region
Compatibility
Operates only with all Ajax hubs, and range extenders
Maximum radio signal power
Up to 20 mW
Radio signal modulation
GFSK
Radio signal range
Up to 1,700 m (where there are no
obstacles)
Power supply
2 × CR123A, 3 V
Battery life
Up to 5 years
External power
5 – 28 V DC, 200 mA
Usage
Indoors and outdoors
Body protection level
IP55
Anti-tamper switch
Yes
Installation method
Outdoors/indoors
Operating temperature range
From -25°С to +60°С
Operating humidity
Up to 95%
Accessories
Hood for MotionProtect Outdoor
Overall dimensions
183 × 70 × 65 mm
Weight
322 g
Only logged in customers who have purchased this product may leave a review.
Questions and answers of the customers
There are no questions yet, be the first to ask something for this product.