AJAX – Hub Intelligent Wireless Alarm Control Panel, GSM + Ethernet
Hub
Authentication to prevent forgery
Jamming detection and communication channels encryption
Tampering alarm
Security Grade
Uses GSM or Ethernet to send alarms to the Central Monitoring Station and the owner
Sends a notification in case of electrical power loss and operates for up to 15 hours from battery backup
Checks the functionality of detectors at least every 12 seconds
Features
The device uses Jeweller radio technology to monitor the detectors and ensure a quick response to danger.
It switches the entire system to clear frequencies during jamming.
The device is protected against viruses at software level.
Product Description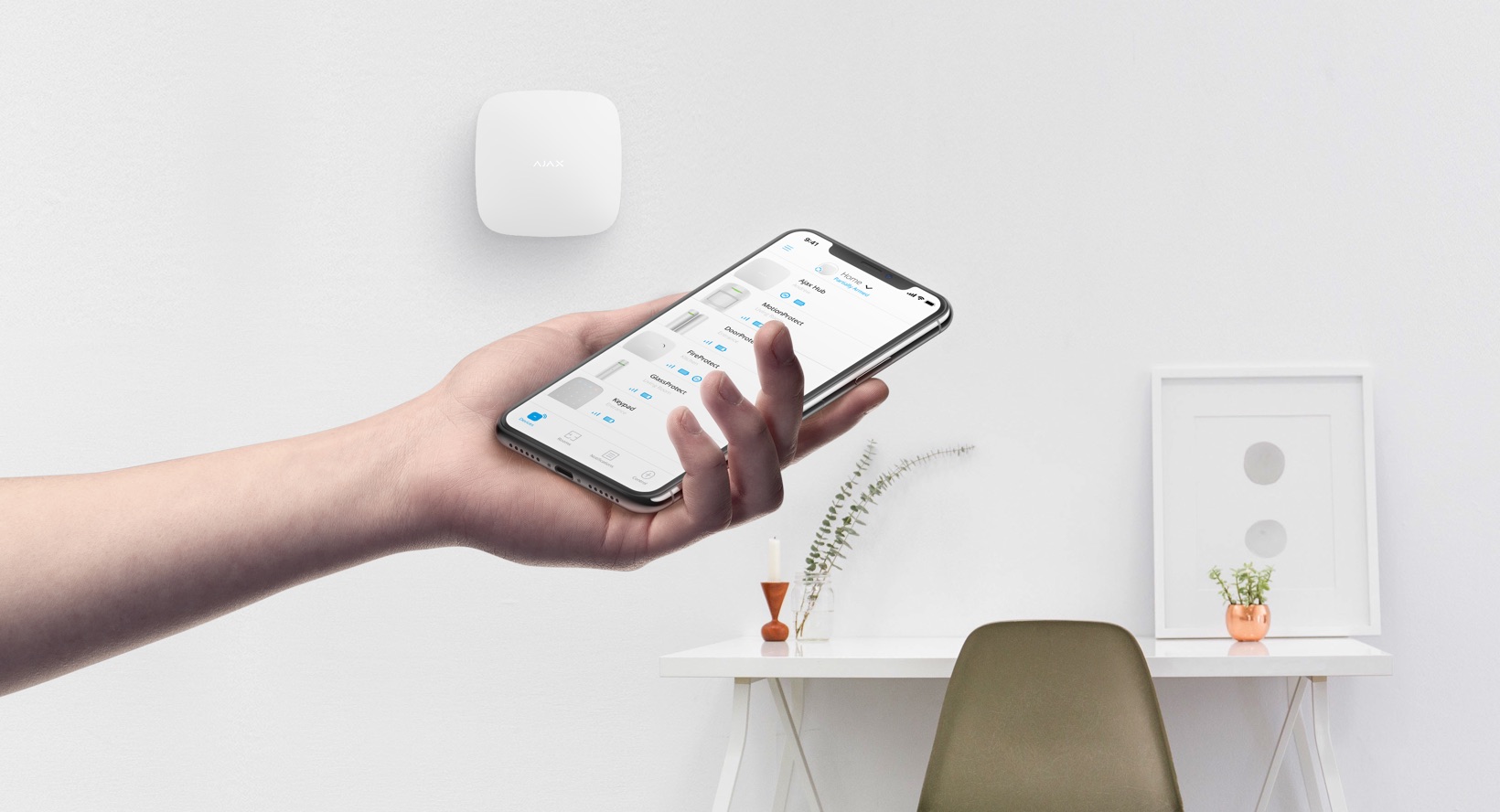 Devices
up to 100
Groups
up to 9
Users
up to 50
Video surveillance
Up to 10 cameras or DVRs
Rooms
up to 50
Scenarios
up to 5

(Scenarios by arming/disarming are not included in the general limit of the scenarios)

Connected ReX
1
Power supply
110 – 240 V AC, 50/60 Hz
Accumulator unit
Li-Ion 2 A⋅h (up to 15 hours of autonomous operation in case of inactive Ethernet connection)
Energy consumption from the grid
10 W
Tamper protection
Yes
Frequency band
868.0 – 868.6 MHz or 868.7 – 869.2 MHz depending on the region of sale
Effective radiated power
8.20 dBm / 6.60 mW (limit 25 mW)
Modulation of the radio signal
GFSK
Radio signal range
Up to 2,000 m (any obstacles absent)
Communication channels
GSM 850/900/1800/1900 MHz GPRS, Ethernet
Installation
Indoors
Operating temperature range
From -10°С to +40°С
Operating humidity
Up to 75%
Overall dimensions
163 × 163 × 36 mm
Weight
350 g
Certification
Security Grade 2, Environmental Class II SP2 (GSM-SMS), SP5 (LAN) DP3 in conformity with the requirements of EN 50131-1, EN 50131-3, EN 50136-2, EN 50131-10, EN 50136-1, EN 50131-6, EN 50131-5-3
Only logged in customers who have purchased this product may leave a review.
Questions and answers of the customers
There are no questions yet, be the first to ask something for this product.